Abigail Bruno, B.S.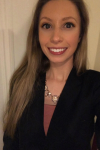 Student Research Assistant
Address:
433 1st Avenue, New York, New York 10010
Abigail Bruno is an accelerated nursing student in the NYU Rory Meyers College of Nursing. Prior to attending NYU, she graduated from Fordham University, with a Bachelors of Science degree in Integrative Neuroscience (Cellular/Molecular concentration) and a minor in Psychology. Her research interests include epigenetics and the neurobiology of addiction. After completing the accelerated program, she is interested in pursuing a masters in Psychiatric-Mental Health Nursing. When she isn't studying, Abigail enjoys playing tennis and participating in community outreach programs.