Alexandra Desir, BA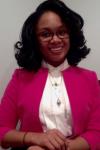 Address:
400 West Campus Drive, Orange, CT 06477
Alexandra earned her Bachelor of Arts degree from Boston University, where she majored in Sociology with a minor in Public Health. Following graduation, Alexandra went on to receive a Certificate in Health Studies from Cornell University. Alexandra hopes to pursue a career in medicine. Some of her areas of interest include, social determinants of health, as well as health equity and inequality.
Alexandra worked on the InterGEN Study as a research assistant from 2015-2016 and will be working at George Washington University as a research assistant while she pursues a career in medicine.  Thank you so much for all your hard work on the project, Alexandra, and we wish you all the best in your future endeavors!