Ashley Elusma, BS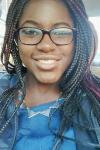 Student Research Assistant
Address:
400 West Campus Drive, Orange, CT 06477
Ashley Elusma graduated from Southern Connecticut State University with her bachelor's degree in Public Health in May 2017. When Ashley isn't at school or working with the lovely research assistants at InterGEN, you can find her at home, lying on the couch binge watching T.V. shows on Netflix. Ashley also enjoys helping others and to this end, she was recently accepted to the Yale School of Nursing Graduate Entry Prespecialty in Nursing (GEPN) program, where she will be begin her studies in fall 2017.  Ashley hopes to become a Pediatric Nurse Practitioner.
Ashley worked on the InterGEN Study as a Visiting Student in Research during the fall 2016 semester and is currently working with the InterGEN Study as a graduate student research assistant.  We are excited that Ashley has returned to YSN to work with InterGEN and pursue her career in nursing!