Carina Luksas, BS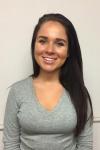 Visiting Student in Research
Address:
400 West Campus Drive, Orange, CT 06477
Carina is in her last semester at Southern Connecticut State University for her Bachelor's of Science Degree in Public Health. Public health has broadened Carina's outlook on healthcare and she is interested in bringing that knowledge to nursing as she wants to continue her education after she graduates. She is excited to contribute to the Intergenerational Blood Pressure Study and look forward to learning more about the multiple factors that affect blood pressure.
Carina worked with the Intergenerational Blood Pressure Study for the fall 2015 semester and is now off to pursue a career in public health and nursing.  We wish you all the best, Carina!