Ekpereka Sandra Nawfal, MBBS, MPH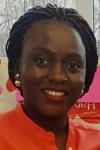 Address:
400 West Campus Drive, Orange, CT 06477
Ekpereka Sandra Nawfal has worked as a clinician abroad for over 5 years, providing healthcare services and promoting health awareness in preventive diseases. She has served as a focal person for HIV/AIDS program, prior to joining the Intergenerational Blood Pressure Study (InterGEN study). Her passion for preventive health motivated her to earn a Master degree in Public Health from Southern Connecticut State University.
Her research interests are infectious and chronic disease prevention as well as maternal and child health. Ekpereka is excited and fulfilled to be involved in the InterGEN study and to work with an amazing team of intellectuals.