Kevin Newhall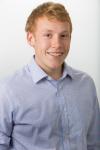 Visiting Student in Research
Address:
400 West Campus Drive, Orange, CT 06477
Kevin is a rising senior at Vassar College where he is majoring in Neuroscience and Behavior. Kevin's other academic interests include public health, and he spent a semester studying global public health/medical anthropology in Viet Nam, South Africa, and Argentina. His interest in examining how environmental factors can manifest epigenetically is what brought him to volunteer with the Intergenerational Blood Pressure Study. Following undergrad, Kevin hopes to apply to clinician researcher programs. 
Kevin worked with the InterGEN Study for the summer of 2016 and is entering his senior year at Vassar College.  Thank you for all your work on the study, Kevin, and best of luck with your future endeavors!