Valen Grandelski, MPH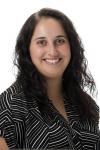 Address:
400 West Campus Drive, Orange, CT 06477
Valen joined the Intergenerational Blood Pressure Study (InterGEN Study) team in December 2014 and Yale University in March 2012.  Prior to working with the Intergen BP team, she worked as a research assistant with the Advancing Relationships and Community Health (ARCH) research group at the Yale School of Public Health.  Valen earned her B.A. in Healthcare and Health Disparities from the University of Connecticut in May 2011, where she also worked as a research assistant for the Center of Health Intervention and Prevention (CHIP) doing HIV/AIDS research. In May 2017, Valen earned her Master of Public Health (MPH) degree from Southern Connecticut State University.  Valen's research interests are intervention development, implementation, and evaluation. 
In August 2017, Valen moved on from YSN to pursue a public health research and teaching position at Southern Connecticut State University.  Valen is honored to have been a part of the talented and wonderful InterGEN Study team and is truly grateful for her time working on the study - she will dearly miss the InterGEN team!